CHAPLAINS CAN USE THE DUSTY REFORMED BOOKS ON YOUR BOOKSHELF!
Many of us have been blessed to accumulate a large reformed library, but we never go back and re-read many of these wonderful books. One PCA church decided to gather a large shipment of those books and send them to a PRCC Chaplain to give away in his ministry. Go ye and do likewise!
The pastor of Rincon Mountain Presbyterian Church, and PRCC Commissioner, Stu Sherard wrote: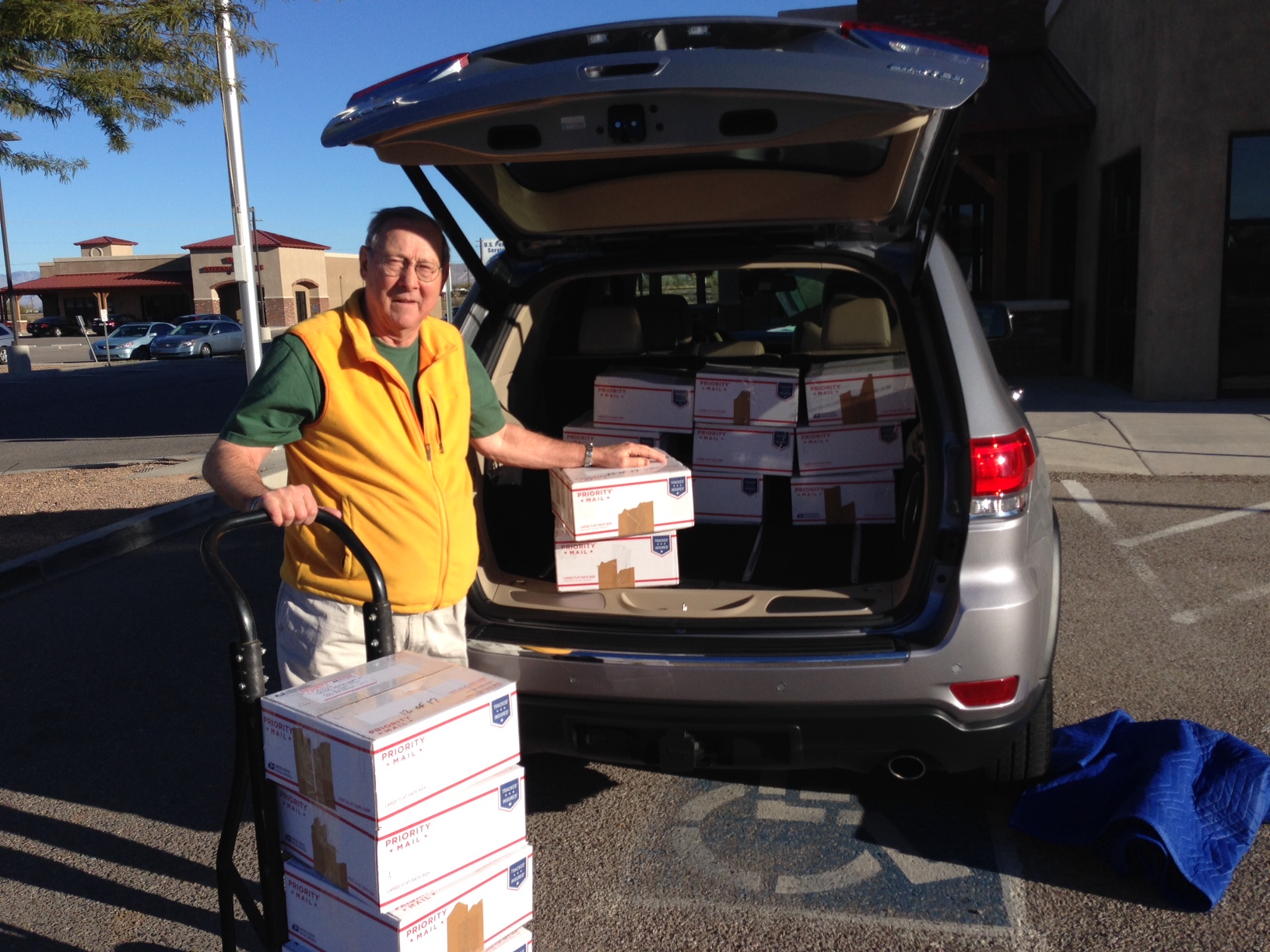 "I have stayed in touch with Chaplain Doug since he deployed to Al Udeid Air Base, Qatar. He indicated in his Guardian ministry report and in personal emails to me that due to fiscal constraints, he was in dire need of quality Christian books to give out to the troops. He gave us a list of preferred subject matter. I lead a small Life Group at Rincon Mountain PCA here in Tucson, AZ and we decided to take Doug's need on as a service project. We challenged the entire church to participate in this project with us. I made an appeal from the pulpit and we had an insert in the Sunday Worship Bulletin for 3 Sundays in December, 2013. We placed a large collection box in the Church Foyer for 3 Sundays in December 2013. The response from the church was overwhelming. We were literally inundated with quality Christian books, Bible studies, CDs, MP3s, CCEF booklets, etc., on all the subjects that Doug requested. Some material was new, but most was material that people had in their libraries which they hadn't used for some time. So, they donated it to Doug who could put it to good use in support of our overseas troops. I ordered 25 large flat-rate boxes and labels from the USPS which were delivered (free of charge) to my home. After the first of the year, our Life Group sorted through all the material and sent 17 chock full boxes to Doug. It should take just a couple of weeks for them to get to him. Since Doug has an APO we got a $2.00 discount on each box. We paid $14.90 for each box which came out to around $250.00. Lots of people chipped in and helped with this cost, so the burden was spread around. Everyone at Rincon Mountain PCA was truly excited about the project and I'm hopeful that we will be able to do more for our chaplains in the future."
Response from Chaplain Doug Hess:
Subject: Thank you Rincon Mountain Church from Qatar
Stu, Phil, Carolie, Shelley, and the Brothers and Sisters in Christ at Rincon Mountain,
WOW!! Thank you so much for the 17 boxes of books you sent to Victory Chapel at Al Udeid, AB Qatar. What a gift! I received the boxes this past week.
They are all placed on our free literature shelf and are disappearing rapidly.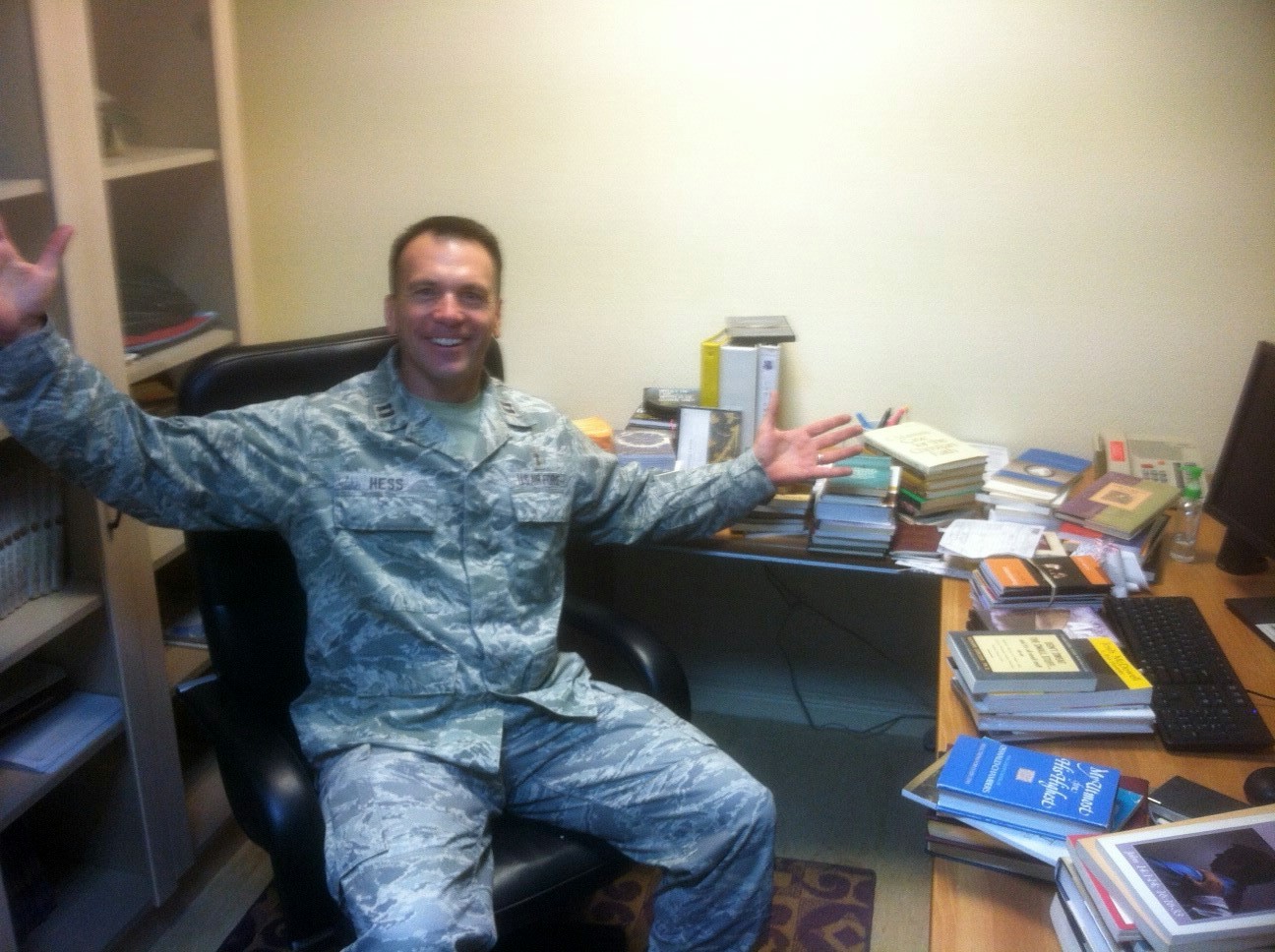 I recently gave Chosen by God to a Senior Airmen, Jordan who I am discipling. He said to me at Bible Study tonight, "Chaplain that book is helping me out so much and it's verifying the thoughts I had about election.
Thanks for suggesting it."
What a blessing it is to have so many biblically solid, reformed books to give out! I'm convinced God is mightily wanting airmen to hear solid Christian teaching right now at this base.
Thank you for your prayers! They are mightily felt each and every day. I need them because on average I probably counsel 3-5 people a day and visit
25-50 airmen not counting all the briefings I do. About 6 weeks remain before I start to head home. Please pray I will finish well and Amber continues to juggle 3 kids, her last semester in her Master's, internship, and the joy of going through a New Jersey Winter. I'm so proud of her!
Thank you again, Colonel Stu, for organizing this. You're one old soldier that's certainly not fading away! God Bless. I'll send some pictures of worship services on the Flight Line.
Doug Hess
Chaplain, Captain USAF
How Eagle Heights Church (PCA) in Winchester, Virginia faithfully supports their "Sponsored" Chaplain Missionaries:
Our church "sponsors" two chaplains – one Army and one Navy. Our Army Chaplain is also a paratrooper and supports the 101st Airborne. Our Navy Chaplain primarily supports Navy SeeBees but also Marines when deployed. These men have served multiple deployments, including in war zones.
We seek to support these chaplains by praying regularly for them and their families, by name, during public worship at church (and letting them know each time this occurs); one church member prays for them every day; their families are sent care packages during their deployment and when a new baby arrives; a vacation location free of charge is made available to them; and their update reports are shared with the congregation at large.
VBS Students Support Chaplains with Prayer and Cards
Pilgrim PCA in Martinsburg WV focused on the Armor of God at last summer's VBS (Ephesians 6:10-18). They always have a "mission". This year they put the focus on Military Chaplains. We asked them to give you information about their event with hope that you may go ye and do likewise! Pilgrim VBS 2013 Review
Cards for Troops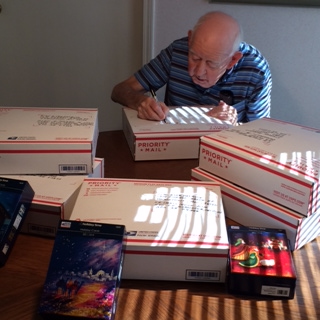 Richard Kirkpatrick is a man whose ninety years of life have been spent faithfully serving others. He served his country during World War II. He has served his wife Doris and their family for over sixty years. He served his company as an engineer at US Steel. He has served his church as a Deacon and in countless other ways. He has served his community by designing and supervising the construction of two Habitat for Humanity homes.
Through all these years of service one cause has always been closest to his heart; those who have served and are serving in the armed forces of the United States. He is very active in the local VFW post and a few years ago he felt the need to reach out, in a special way, to those on active duty, especially in places like Iraq and Afghanistan. He asked the members of his church, First Presbyterian in Demopolis, Alabama to provide Christmas cards with a personal message of gratitude to the troops. The first year a couple of hundred cards were collected and mailed to military chaplains for distribution to deployed military personnel. This year, thanks to his perseverance and a very effective e-mail and internet campaign directed by Elaine Carr, over sixteen hundred cards have been collected from schools, churches, and individuals in hopes that the Christmas season will be a little brighter for our troops serving so far from home. And every envelope will be personally addressed, "To a Brave Soldier," by Dick and Doris. Dick contacts PRCC Chaplain Ministries each October and gets names and addresses of deployed PRCC Chaplains who volunteer to distribute Dick's personalized Christmas cards. The cards must be mailed by November 20 to ensure they arrive by Christmas.