A longing fulfilled is sweet to the soul, (Pro 13:19 NIV)
Cristo Rey Presbyterian Church Organized as a Particular Church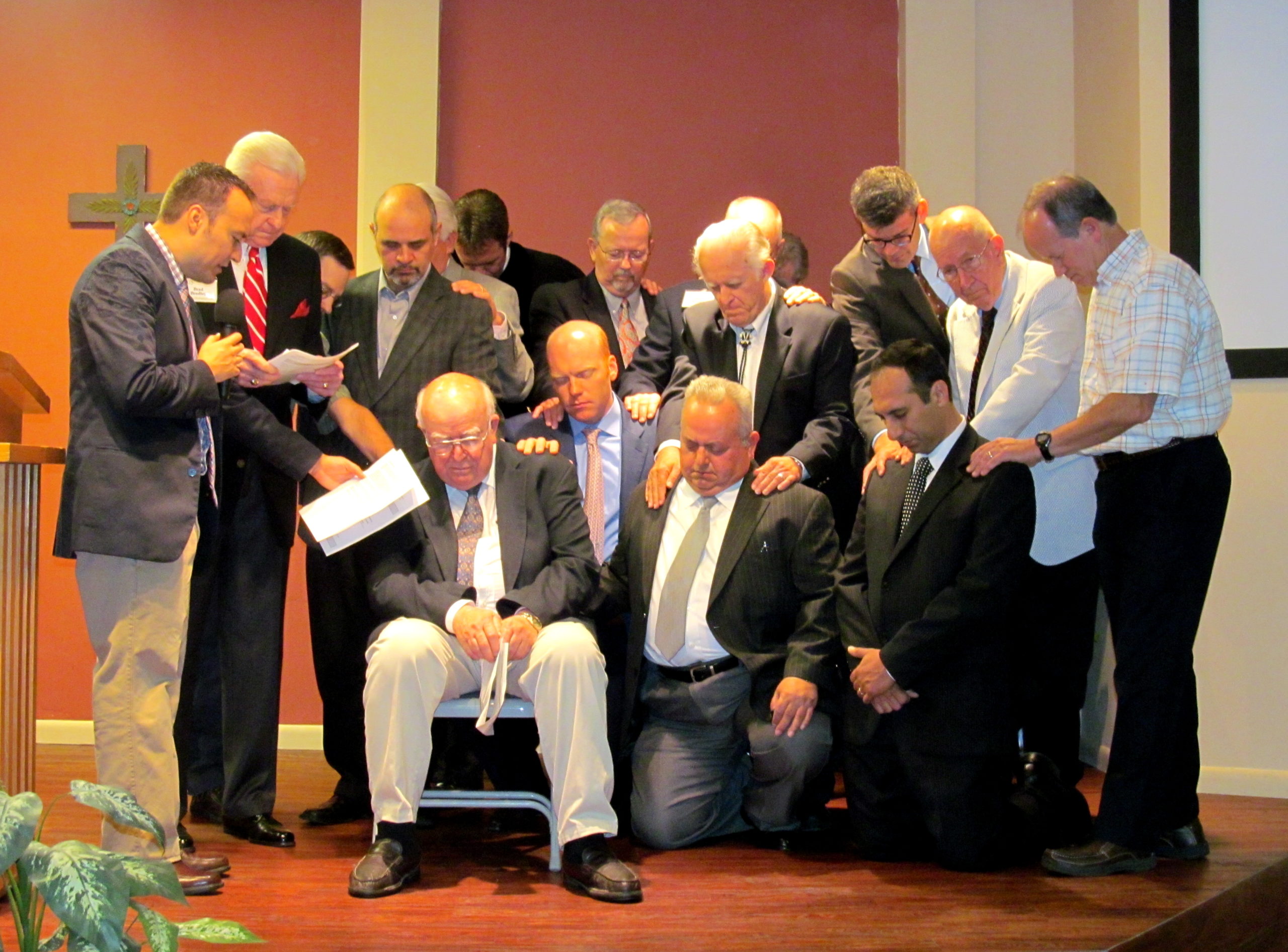 Yes, a longing fulfilled is indeed sweet to the soul, and that is what we experienced at Cristo Rey Presbyterian Church (cristoreypca.org) on September 15. Eleven years and two weeks after the work was begun, Ted Atkinson, Alejandro Araujo, Eliot Kerlin and Reinaldo Rivera were ordained and installed as ruling elders and Cristo Rey became a particular church. Josh Geiger, the church planter, was installed as the pastor. The bilingual worship service to organize the church included a sermon from MNA Hispanic American Movement leader Hernando Saenz, and charges from Jahaziel Cantu (Christ Presbyterian Church, Flower Mound, TX), Curt Dobbs (Park Cities Presbyterian Church, Dallas, TX) and Clair Davis (Redeemer Seminary, Dallas, TX).
The longing to see a PCA Hispanic church established in north Texas began in September of 2002, when Josh and Shannon Geiger were called by the North Texas Presbytery to begin the work. Networking and Bible studies led to the start of a worship service in July 2004. Over the years the Lord has grown Cristo Rey into a bilingual, multi-ethnic family of 125 people from all walks of life. Day laborers and attorneys, MDs and housekeepers, Anglos, Hispanics and other races all gather to worship and grow in their love for Christ and one another.
There have been many challenges over the years, but the Lord has been faithful and done mighty things. The ESL program, now in its 8th year, has touched the lives of 100s in northwest Dallas. In December 2010, Cristo Rey was able to purchase a permanent home for the congregation in northwest Dallas. In February of this year Mr. Jahaziel Cantu, Cristo Rey's first apprentice, was ordained to the ministry and is now serving at Christ Presbyterian Church in Flower Mound, Texas. Most exciting, over one-third of Cristo Rey's adult members joined the church by profession of faith.
A longing fulfilled is sweet to the soul, and we praise God for what He has done. But a longing fulfilled also creates more longing, so please join us in praying for the Lord's continued blessing on Cristo Rey. Pray for more conversions; pray for God to unite this very diverse body; pray for God to grow us up into mature and equipped disciples; and pray for continuing financial provision. We are thankful to the churches and individuals from North Texas and throughout the PCA who have partnered with us to bring us to this place, and we look forward to God's continued faithfulness in the future!