"Remember those who are in prison, as though in prison with them, and those who are mistreated, since you also are in the body."   Hebrews 13:3 
---
Interview with Mark Casson, Metanoia Prison Ministries from Ligonier Ministries on Vimeo.

Ligonier has partnered with Metanoia Prison Ministries to help reach inmates with the gospel and sound biblical teaching. In this interview, hear from Metanoia's Executive Director, Mark Casson.

Welcome to Metanoia Prison Ministries! Metanoia is the Greek word for Repentance. We chose this as the name of our ministry because it signifies turning from a life of sin to a life that is lived for the glory of God.

Discipleship and Outreach to Prisoners

Metanoia Prison Ministries offers churches the opportunity to develop a discipleship and outreach ministry for prisoners in their own communities. We offer the key tools for an all-inclusive ministry including evangelism, discipleship and reintegration of prisoners. Correspondence courses are offered to prisoners by our churches, using the curriculum Metanoia provides. Since we have developed these courses ourselves, they represent biblical study in the reformed tradition, and they take the student from the very basics of the faith to advanced levels.



Mentoring

As a prisoner/student progresses in the coursework, he or she will qualify for a mentor. The mentor agrees to visit with the prisoner on a regular basis and to assist him or her in applying the doctrines of grace to daily life. In addition, the mentor will help the prisoner develop a complete parole plan, and work with a church in the prisoner's home town (often a different town than that in which the prison is located) to assist with the transition to post-incarceration life.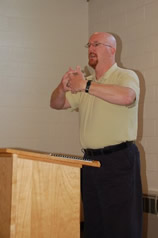 Get Involved!

The actual work of the ministry is done by people just like you. Instructors, those who correspond with prisoners, the mentors, and those who work with the prisoners as they reintegrate into the community – most are PCA members, offering this ministry as a service by primarily PCA churches. Metanoia provides a curricula, training and logistical coordination to assist churches in initiating and sustaining this ministry. Any adult Christian can serve as an instructor. We encourage people to become instructors and do the ministry as a family. Based on my personal experience in ministry with prisoners, I commend to you the ministry structure offered by Metanoia. If you have already established other forms of prison ministry, or have further questions related to prison ministries, we would love to hear from you and discover together how we might serve you. In addition, we would like to develop a network for fellowship and communication among PCA churches involved in prison ministries. Please contact us to find out how you can best serve prisoners, and how we can best serve one another.

Support Us Financially

We ask that you prayerfully consider participating with us through your financial support. You can make a tax-deductible contribution online. You can also mail contributions, made payable to Mission to North America to:

Mission to North America
PO Box 890233
Charlotte NC 28289-0233
Designate: Metanoia Prison Ministries

For Christ and His Kingdom,

Mark Casson,
Metanoia Prison Ministries Director
559-681-7858
mcasson@pcanet.org